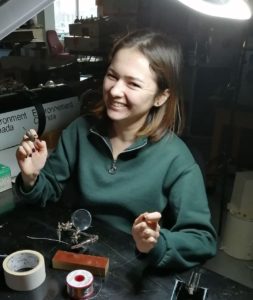 Primary Advisor: Isaac Smith
Rushana completed her bachelor`s degree in Earth and Space Sciences at Jacobs University Bremen in Germany, where she specialized in Geophysics and Planetary Science. Her bachelor`s thesis was about rover navigation on a planetary analogue cite. Rushana also completed internships at Lunar and Planetary Institute in Houston and the German Aerospace Agency (DLR) in Berlin where she worked on mapping geomorphological features on the moon and Mars.
She is currently conducting research under the supervision of Professor Isaac Smith. Her research at York University is focused on developing an experimental setup and collecting spectrophotometric measurements of CO2 ice under Martian environmental conditions. The data collected during this project will help test radiative transfer models used to derive the properties of the CO2 ice on Mars from remote sensing observations.