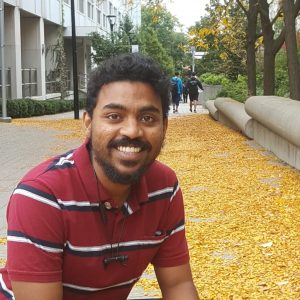 Primary Advisor: Regina Lee
Chitiiran K.M. is a master's student at Lassonde School of Engineering working on Configuration Analyses for Control Moment Gyroscope Arrays (CMGA) and Associated Steering Law. The research aims to streamline the CMGA design process and take advantage of lower power consumption of the CMGA system compared to traditional reaction wheels. Furthermore, the high slew rate of this particular actuation system helps remote sensing spacecraft to observe a moving target and/or prolong the observation window for exoplanet hunt.
Prior to master's, Chitiiran K.M. worked at Infinium Robotics; a Singapore based drone start-up working on indoor navigation technologies. During free time, Chitiiran K.M. reads books and occasional plays Muggle-Quidditch.