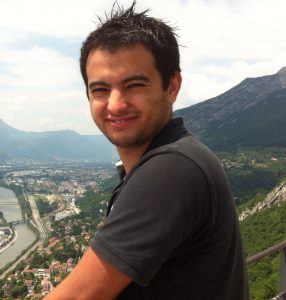 Dr. Abdelkrim Toumi recently completed his PhD in Astrochemistry (Université Aix-Marseille, France) and is currently a PDF in Dr. John E. Moores's group. In his PhD, his focus was on simulating the atmosphere of Titan experimentally, during which he gained planetary science experience along with strong experimental skills in cryogenic and high-vacuum systems.
Dr. Toumi has vast amount of experience with several useful analytical techniques including spectroscopy in the IR and UV and mass spectroscopy. His UV work is especially pertinent as it was completed at Lyman-alpha wavelengths, a challenging regime in which to work. As demonstrated by his presentation and poster history, he also has a strong ability to communicate his scientific results. Till date, Dr. Toumi has published four papers in highly respected journals.
Relevance to TEPS
This project will develop a technology that has the capability to assist with robotic space
exploration, therefore helping to quantify key parameters of volatile transport and storage on 'airless' bodies within the 'Local Laboratory.' This improved local knowledge will, in turn, help to refine models of exoplanetary bodies and their exospheres.